Drying chamber TNV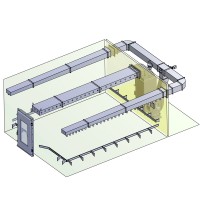 The installation is designed for drying and ripening of not heat-treated meat products after the end of previous phase – fermentation and cold smoking in a smoking chamber (mostly the second and third weekend of the process).
Mostly installed in a place where construction works had already been done by the customer and which had already been divided into a part with an air-conditioned chamber and a machine room where the technology is placed.
The machine room can be placed in a space behind the chamber or in the technical floor above the chamber with products.
The temperature, humidity and air circulation is regulated by a control system, where a frequency converter controls revolutions of a ventilator. This all helps to ensure optimal conditions of a product with reference to the technological requirements of product's ripening and optimization of slowing down the evaporation of water in it.
It uses economical low-temperature drying with the condensation of water stream on the cooler's plate.
The installation consists of air distributions and air-conditioner.
All parts of the installation are specially designed for each customer according to the conditions, product assortment and differences in technology production.
The whole installation is made of stainless steel.
Drying chamber TNV
Photo gallery of the drying chamber TNV