Control system iRauch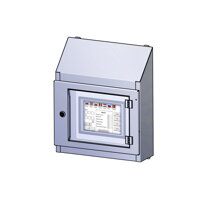 A new generation of Control Processor that uses the research results in the field of food technology and has a lot of benefits.
Simple intuitive control with the use of a touch screen.
Maximal user's comfort.
It enables a full automatic run of the chamber without permanent presence of the machine operator as well as full automatic start and regulation of the smoke-generator in requested periods.
Simple creation of application programs, their editing, back-up or transfer between mechanisms.
The possibility of continuous regulation of ventilator revolutions by a frequency converter.
Recording of all parameters of the process with reference to HACCP.
Recording of all changes unlike an operator-controlled program.
Internet access enables the users to control and operate the installation from anywhere they want as well as it enables producers the service interface, control, technological consulting, set out programs and parameters of the installation.
A unique system of backward trace up of products, for example from store to heat treatment – HACCP1.
Photo gallery of the control system iRauch