Cooking tank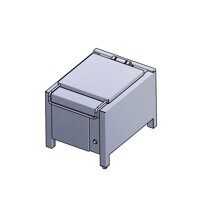 The cooking tank is designed for cooking of food in water in food-processing companies and in large-capacity kitchens.
The installation has got a self-supporting construction and is made of stainless steel.
It is simple to operate, maintain and is reliable because of the use of automatic regulation.
The tank and cover are good isolated so as to reduce the heat loss.
Electric coils, direct steam injection and gas register help the heating up.
The control system enables automatic control and regulation, temperature sensing in the tank ensures fixed temperature sensor and to measure temperature in the middle of the product a needle sensor can be used.
The water can be let in through an electromagnetic valve.
Release valve is placed in the body of the boiler.
Cooking tank
Photo gallery of the cooking tank