Cooling chambers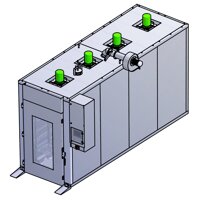 The installation is designed for a fast and intensive cooling of products after the heat treatment till it reaches the packing or expeditionary temperature, alternately using cool water and air that flow intensively through a stainless cooler.
The fast cooling enables a minimal weight loss - slowing down the evaporation of water and decreasing the chance of undesirable microflora expansion that can survive in a product even after the heat treatment.
The technological process is controlled by a system that ensures automatic running of the cooling chamber, so that the core temperature of a product is under the required temperature as fast as possible. It also ensures the monitoring and recording of smokehouse parameters with reference to HACCP and Food Quality Control Inspection.
Its case is made of several parts which are put together at the customers'. No assembling gap is needed as each of its parts can go through ordinary door. The housing of the installation's parts is made of stainless steel and afterwards filled on a special production line with bi-component polyurethane foam which is stabilized by pressure and temperature. Thanks to this, a perfect thermal isolation of chamber walls, or more precisely ecological and economic running of the chamber, is guaranteed.
According to the customer's requirements the installation can be made in a single- or double-door (transit) tunnel version.
The installation can be combined with a cooking chamber. If so, the same installation can do the heat treatment and afterwards fast and intensive cooling with reference to the technological process and HACCP requirements.
Cooling chambers-four-wheel drive
Photo gallery of the cooling chambers: