Laser cutting with TruLaser 3030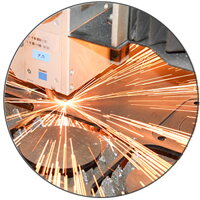 Metal plate laser cutting:
• After the laser cutting the cut stays clean and smooth without other treatment.
• Minimal programmable distance: 0,01mm.
• Maximal position error: 0,1mm.
• Maximal size of the cutting metal plate: 1500x3000mm.
Maximal metal plate thickness:
• Structural steel - 20 mm
• Stainless steel - 6 mm
• Aluminium - 5 mm
Pipe and profile cutting:
• Cutting of pipes, profiles and their joints or their mutual conjunctions with the use of additional device RotoLas.
• Minimal pipe or profile diameter: 20mm.
• Maximal pipe or profile diameter: 400mm.
Laser lettering:
• On the engraved components signs, letters, logos and other can be scribed.
The cutting is realized on the basis of technical documentation which is delivered to the customers in '.dwg' or '.dxf' format. According to the basic criteria technical documentation is created by our company.
Photo gallery of the laser cutting: